The Mental Health Awareness Training (MHAT) project is a 3-year initiative, funded by SAMHSA and launched in September 2018, that focuses on increasing awareness and knowledge of mental health in order to reduce substance abuse, depression, suicide, violence, and other behavioral health concerns.
Mental Health First Aid (MHFA) training provides specialized training to individuals and organizational partners that interact with at-risk populations. Our target demographic includes higher education, youth, fire/EMS, and veterans within Monroe County, Indiana.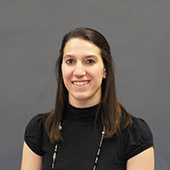 Our goal is to train many individuals from all walks of life in Mental Health First Aid and for them to become aware of the impacts of mental health problems to help reduce stigma and encourage access to appropriate resources.
Heather Dolne, Program Manager